Summary: Several rain chances with a couple of picture-perfect days. Storm chance Friday with cooler temperatures for the weekend.
Waking up to fog this morning as we look forward to a warm and spring-like day.
Monday – High 72* Low 56*
A spring-like day wth mostly sunny skies and a high of 73*. Winds out of the southeast at 5mph. Overnight low temperature drops to 56* under mostly cloudy skies ahead of rain for Tuesday.
Tuesday – High 67* Low 53*
Tuesday brings a 50% chance of rain with a high temperature slightly cooler than Monday at 67*. Scattered rain starts at about 6am and ends around 6am Wednesday. We will see roughly a tenth to a quarter of an inch. Overnight low temperature will drop to 53*.
Here's the NAM4 simulated radar for rain on Tuesday.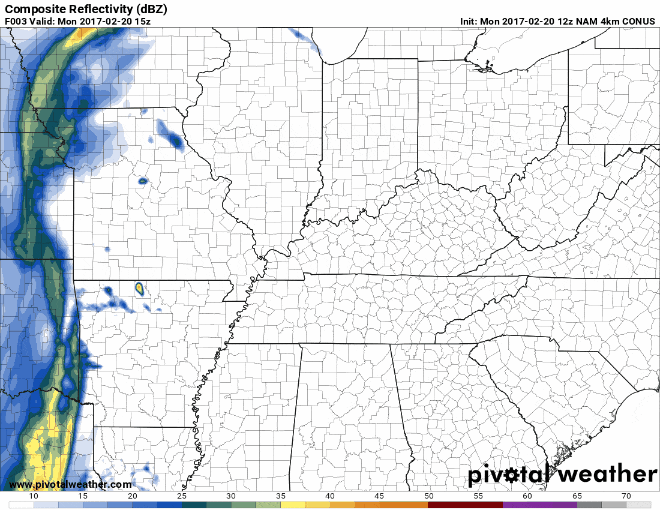 Wednesday – High 71* Low 56*
Rain moves out leaving us partly cloudy skies and a high temperature of 71*. Overnight lows drop to 56* under mostly cloudy skies.
Later in the week
Rain chances return slightly on Thursday, but more so on Friday. Friday brings a cold front with a chance of thunderstorms. Too early to tell if they could be severe or not, but we'll watch it closely. This weekend sees temps in the mid 50's, much cooler than we've gotten used to.
Will it ever get cool again?
Looking ahead, it looks like we may see a chance of seeing near-freezing temps toward the end of February. Below is the GFS model forecast for temperature. This snapshot is for Tuesday, February 28th at 6am. This is way in the future, however, so it could (and likely is to) change.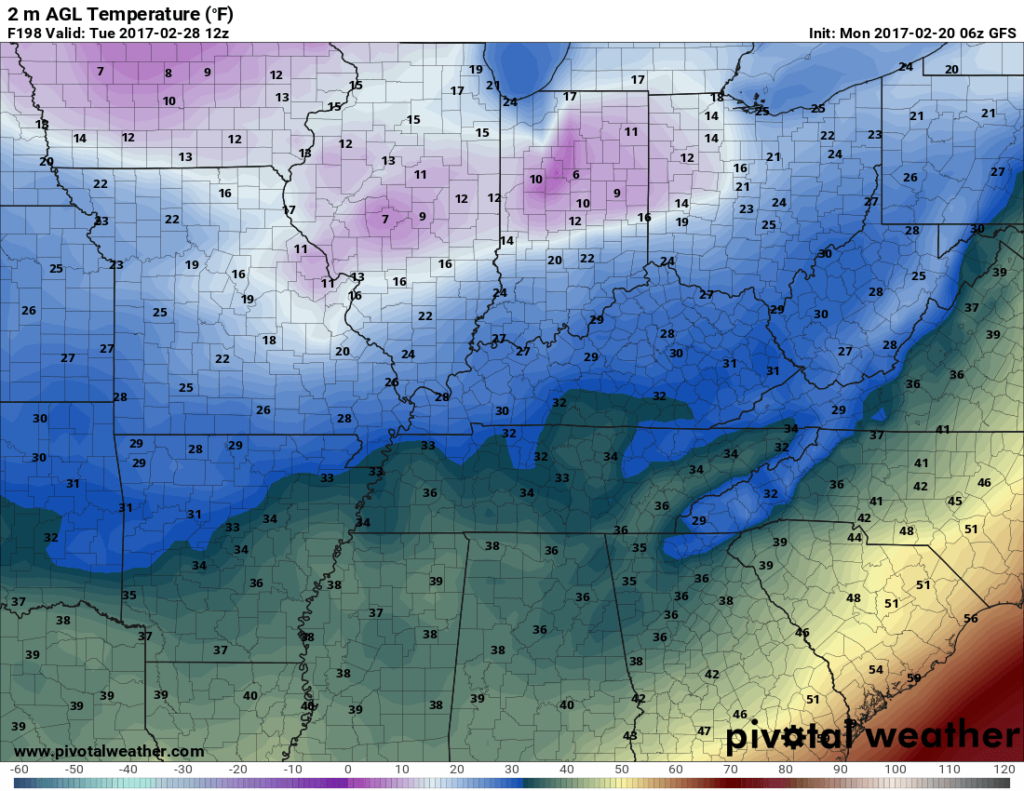 Extended Forecast